Moshe Sharett's Personal Diary in Arabic
Moshe Sharett (1894-1965) was Israel's first Foreign Minister (1948-56) and its second Prime Minister (1953-55). For over two decades Moshe Sharett worked particularly closely with David Ben-Gurion, with whom he shared common goals but with whom he occasionally, and increasingly, clashed.
In October 1953, towards Moshe Sharett's impending nomination as Prime Minister, he felt the heavy responsibility of this new position impelled him to begin writing a detailed diary depicting his activities and thought. Inevitably, this diary portrays the deepening conflict between his moderate policy and the "hawkish" one of the Israeli defense establishment, headed by Chief-of-Staff Moshe Dayan, Minister of De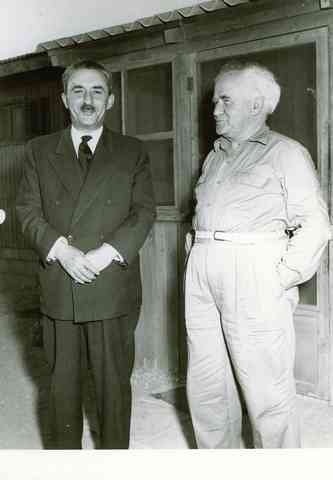 fense Pinhas Lavon and General Director of the Defense Ministry Shimon Peres. This conflict came to a head when Ben Gurion returned to the government as Minister of Defense in 1955, and even more so when Ben Gurion later replaced Moshe Sharett as Prime Minister. In June 1956, Ben Gurion forced Sharett to resign.
In 1978, Yaakov Sharett edited and published in its entirety the diary that his father, Moshe Sharett, had kept from 1953 until 1957. The eight-volume Hebrew edition "Moshe Sharett - Personal Diary" was universally acclaimed as a milestone in Zionist historiography and soon went out of print. It has become a "must" for all serious scholars of Israel's domestic politics as well as its foreign and defense policy-making in the turbulent period when Israel's armistice with the Arab states disintegrated and the country went to war in Sinai in Oct. 1956.
This diary constitutes an unrivaled documentation of young Israel's formative years. Since Moshe Sharett was blessed with a rare stylistic gift, the diary is a literary masterpiece as well. It makes for a fascinating reading.
In 1996, the Instit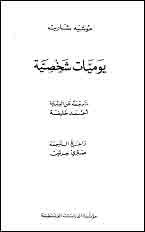 ute for Palestine Studies, Beirut, published an abridged (674 pp) Arabic edition of Moshe Sharett's personal diary. This important edition, which was prepared without obtaining the permission of the rights holder (Yaakov Sharett), is now available for reading on this site in its entirety.